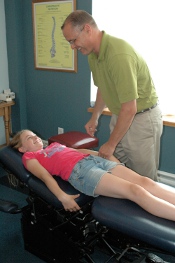 Dr. Alan R. Perestam and his wife, are life long resident of Owego, and are active in the lives of their four kids.
Dr. Perestam began practicing in Owego after graduating from Logan College of Chiropractic in 1989. One of three children raised in a Chiropractic family, Dr. Perestam wanted to continue the tradition started by his father, Dr. John I. Perestam in 1962.
Perestam Chiropractic is dedicated to be a family practice offering care from infants to seniors. Each person's unique cases are addressed on an individual basis tailored by different adjusting techniques such as Applied Kinesiology, Flexion/Distraction, and Diversified. Quality of Life and long-term health are our primary goals. Nutritional concerns and support can be discussed with Dr. Perestam, and further diagnostic testing can be addressed. Additional therapies and techniques are offered at the office to help with any other specific needs.
---
Dr. Dean H. Powell
Originally from Franconia, New Hampshire, Dr. Powell was first inspired to pursue a career in chiropractic by mentor and good friend, Dr. John I. Perestam. Dr. Powell studied Touch for Health with the Perestams in New Hampshire and experienced firsthand the amazing powers of this healing art. After witnessing a dramatic change in his young daughter's health using these techniques coupled with chiropractic, he took the next steps to become a chiropractor.
With their two children, Cody and Cayleigh Powell, off to college, Dr. Powell and his wife, Janet, who is a professional chef, made their journey from New Hampshire to St. Louis, Missouri. For the next five years, Dr. Powell was enrolled at Logan College of Chiropractic where he completed a rigorous 10-trimester program of study, earning his Bachelor of Science Degree in Life Sciences in 2009 and Doctor of Chiropractic Degree in 2011.
Dr. Powell is trained in the following Chiropractic techniques: Diversified Adjusting Technique, Gonstead Adjusting Technique , Activator, Applied Kinesiology and specializes in Logan Basic Technique. In addition to spinal adjustments, nutritional and lifestyle needs are also highly emphasized and addressed to help patients with long-term health and preventive care.